---
We must continue to advance asbestos awareness around the globe by educating the public on the hazards of its use.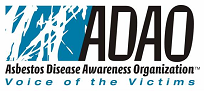 The Asbestos Disease Awareness Organization (ADAO) is an independent organization, founded by asbestos victims and their families, dedicated to promoting asbestos awareness through education, advocacy and community. Every year, thousands of people in the United States are diagnosed with mesothelioma cancer and other asbestos related diseases.
What is ADAO's Mission?
The primary mission of the Asbestos Disease Awareness Organization is to advance asbestos awareness around the globe by educating the public on the hazards of asbestos exposure, creating a supportive community for asbestos disease victims and their families, playing an active advocacy role in Washington D.C. and funding ongoing research to develop new and improved treatment methods and to search for a cure.
The ADAO community is comprised of a group of individuals joined in a common goal to provide a strong, unified "Voice of the Victims". As a result of the consistent, unyielding dedication and commitment of everyone in the community this "voice" continues to strengthen each year. Together, the ADAO community has worked to influence important asbestos legislation, created important educational tools to promote public awareness and supported medical research to develop new and emerging treatment protocols. Most importantly they have fostered strong personal bonds and friendships that, in many instances, have proven to be the best "medicine" of all.
ELSM Offers Continued Support to ADAO
Early, Lucarelli, Sweeney and Meisenkothen remains firmly committed to ADAO's mission and vision of promoting global asbestos awareness. The vast majority of ELSM clients are mesothelioma victims and/or their family members. In working with our clients, we have witnessed firsthand the devastating effects that asbestos disease can have and this has strengthened our resolve to continue to provide financial support to organizations, like ADAO, that are dedicated to increasing awareness about the harmful effects of asbestos and ending the suffering that is caused by it.
Current Events Sponsored by ADAO
The Asbestos Disease Awareness Organization (ADAO) held its 17th Annual International Asbestos Awareness and Prevention Conference from September 16 - 17, 2022 at Emory University in Atlanta, Georgia and virtually. The event was once again an overwhelming success thanks to the hard work and dedication of the conference speakers, honorees, volunteers, and sponsors. Over the course of the two-day event, over 40 renowned asbestos experts and asbestos victims presented on four key areas: 1) Progress and Challenges from the Frontline; 2) Medical Advancements; 3) Legacy Asbestos; and 4) Global Asbestos Ban Action. A significant highlight of the event was the recognition of the 2022 ADAO Asbestos Awareness Conference honorees. Among those honored included a doctor recognized for her dedication to research related to new treatments for asbestos-caused diseases, an interpreter who has assisted lawyers and their clients in asbestos trials internationally, and a Brazilian filmmaker who produced a short movie highlighting the history of the harm asbestos has done in Brazil. These were just a few of the influential individuals who were honored at this year's conference with special awards. The law firm of Early, Lucarelli, Sweeney and Meisenkothen was proud to support the 2022 ADAO conference as a Silver Sponsor.
---
Request a Free Case Evaluation
Request a Free Evaluation now if you or someone you love has been diagnosed with mesothelioma. The evaluation will cost you nothing. Our lawyers will travel to visit you at your convenience or conference call with you over the phone. We understand how difficult a time this is for you and will assist in any way that we can. You can also call us toll-free at 1-800-336-0086 at any time.