Ask a Question or Request a Free Case Evaluation
Meet our welcome team. Jennifer and Annette have worked with over 3,000 mesothelioma victims combined.
---
---
We are compassionate, caring advocates and we will do everything we possibly can to help you and your family.
---
Watch: Why Did You Choose ELSM to Represent You?
Don't Lose Your Rights
Each state has its own deadlines, called statutes of limitations, which allow victims of mesothelioma to file lawsuits. Don't wait until it is too late to protect your rights! Request a Free Evaluation now if you or someone you love has been diagnosed with mesothelioma. The evaluation will cost you nothing. Our attorneys will travel to visit you at your convenience. We understand how difficult a time this is for you and will assist in any way that we can. You can also fill out the form above to receive a free Mesothelioma packet, or call us toll-free at 1-800-336-0086.
Free
Mesothelioma Legal Guide
Cover medical expenses. Provide financial security for your family. Click below to receive FREE medical and legal information.
Get Your Guide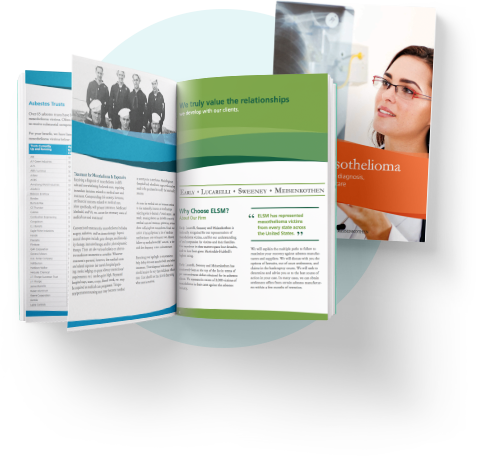 Your
free

Mesothelioma Legal Guide includes all of the following information.
Leading
Mesothelioma Doctors

---

Profiles of top mesothelioma doctors
Comprehensive doctor directory
Peritoneal and pleural specialists
Location and contact information
Top Mesothelioma
Cancer Centers

---

Top cancer center listings
Organized by state
Mesothelioma surgery performed
Current clinical trial details
Answers to Frequently Asked Questions

---

About mesothelioma prognosis
About mesothelioma treatment
About mesothelioma survivors
About financial assistance
Disease
Information

---

About mesothelioma diagnosis
The different mesothelioma stages
Types of mesothelioma cancer
Asbestos lung cancer
Financial
Assistance

---

To help with treatment costs
Assistance with VA benefits
Asbestos trust funds available
Workers Compensation
Legal
Rights

---

Competent mesothelioma lawyers
Knowledgeable asbestos attorneys
Filing a mesothelioma lawsuit
Best jurisdiction to file a clam?