Offering Some Comfort To Cancer Victims
---
Christian Nolan, The Connecticut Law Tribune - "Dozen Who Made A Difference in 2012"
Chris Meisenkothen Is At The Forefront Of Asbestos-Related Litigation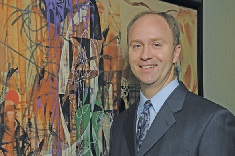 At just 38 years old, Chris Meisenkothen has become a go-to guy at a go-to firm for asbestos exposure litigation.
Meisenkothen, of Early Lucarelli Sweeney and Meisenkothen in New Haven, manages the firm's asbestos docket in Connecticut and oversees all of the firms' asbestos cases nationwide.
Specifically, Meisenkothen focuses on mesothelioma cases, a rare and deadly form of cancer that attacks the lungs and is caused by long-term contact with asbestos. In 2012, Meisenkothen, along with another lawyer in his firm, Brian Kenney, tried the first asbestos lawsuit that went to verdict in the state since 2009. The lawyers recovered $2.4 million for a New Haven man who worked as a tile setter for 30 years and died in early 2010 after a nine-month battle with mesothelioma.
The 2009 trial, the largest asbestos verdict in Connecticut history, was Meisenkothen's case, too. He won nearly $2.6 million for a former Navy mechanic in Groton who also died of mesothelioma.
"Mesothelioma is such a horrible disease," said Meisenkothen. "One thing you learn handling these types of cases is you really have no idea how this disease affects people until you see it actually affecting people. Some clients are the picture of health when you first see them and then very quickly go downhill. Others seem very frail, sometimes in hospital beds in the living room, hooked up to oxygen and those clients for some reason are able to fight longer."
Overall, Meisenkothen said clients typically die from the disease within 12 months of diagnosis. As such, he has to get depositions taken as quickly as possible when taking on a case.
To that end, Meisenkothen has racked up a lot of mileage on his car and many frequent flyer points, visiting clients and potential expert witnesses everywhere from Washington state, Florida and Maine, to North Carolina, Michigan and upstate New York.
"A client may have worked in Connecticut, lived in Connecticut and was exposed in Connecticut, but retired to Florida or Arizona, or moved, worked part of their career in Connecticut and continued working in Michigan or North Carolina or some place," said Meisenkothen, who is licensed to practice in Connecticut, Georgia, Maine, Massachusetts and New York. "We always travel to where the clients are now."
Meisenkothen is a Connecticut native, having grown up in North Branford. He attended the University of Connecticut as both an undergraduate and a law student.
He was hired by his current firm, then known as Early Ludwick and Sweeney, in 1999. Handling asbestos-related cases was a natural fit, as he's always had an interest in science. In fact, Meisenkothen, in preparing for cases, reads medical and science journal articles pertaining to asbestos. He finds it more rewarding than simply "regurgitating" what another lawyer may have told him or what may be found in a judge's opinion.
"It's very helpful as a plaintiff's lawyer," said Meisenkothen, who has started to write his own journal articles. "It certainly gives you a lot more tools in your tool belt to argue with defense lawyers. I really think that's important. A lot of lawyers just don't have the time, interest or inclination to read a lot of the original research."
Asbestos, a set of six naturally occurring minerals, was routinely used for more than a century by manufacturers, builders, the military and other businesses, which valued it for its sound absorption and resistance to fire, heat, electrical and chemical damage. By the mid 20th century, there were indications that, when inhaled, asbestos fibers posed serious health hazards. By the 1970s, asbestos lawsuits had become commonplace. In 2003, one economist estimated the total cost of asbestos victim compensation to be $200 billion.
Though asbestos-based products were quickly discontinued, the impact on generations of workers who breathed the fibers – sometimes for years on end – lingers on. Meisenkothen said even though some studies indicate that mesothelioma cases may plateau at some point this decade, he sees no end in sight. His firm gets between 100 and 150 new asbestos exposure cases per year.
"There are not a lot of firms that do this," said Meisenkothen. "We are one of a smaller group of asbestos firms that handles almost exclusively mesothelioma cases now."
Most legal claims are for pain and suffering and loss of consortium. Like the vast majority of litigation, most asbestos cases end up settling. Meisenkothen's firm has entered into significant settlements with well-known companies like General Electric, Westinghouse, Georgia Pacific, Honeywell, and Fisher Scientific.
As for the plaintiffs, there are similarities – but even more differences.
They have had varying degrees of exposure to asbestos, and developed symptoms of mesothelioma – which include chest pain, violent coughing and fatigue – at different stages of their lives.
They're school teachers, lab workers, Navy veterans, power plant workers, electricians, and shipyard workers. Some have had long-term exposure to construction products, such as caulking and floor or ceiling tiles. Others were involved in the manufacture of automotive products, such as brake linings; or they worked with laboratory materials, such as heat-resistant gloves and other clothing, and small ovens used in scientific experiments.
"Knowing what I know now, I'm sure there's some asbestos-containing [lab] materials I used in high school because the stuff was still on the market," said Meisenkothen.
Meisenkothen typically meets the clients in their homes and gets to know the other family members. He might sift through family photos or take a close look at their home and work history.
"You're looking through their home for any clues of exposure, any materials they kept from work," said Meisenkothen. "You're talking about very personal things sometimes, so it's difficult. The vast majority of these clients were honest hard working blue collar guys, a lot of union guys. Guys that just worked their whole lives, didn't know what they were doing was a health hazard, and then, at or near retirement age, they get diagnosed with mesothelioma."
Meisenkothen acknowledged that it can be tough getting to know someone during preparation for a lawsuit and then get that inevitable phone call from a spouse or child that the client has passed away. "There's always some sadness involved, as with any profession that deals with these types of situations," he said. "You try to maintain some reasonable distance just so you can do your work and carry on. But you're only human, and do naturally get connected with people, attached sometimes, and hate to see the personal tragedy of it all."
Meisenkothen likes to think he's offering at least some small comfort with the settlements and plaintiff's verdicts.
"You feel like you're doing something good for the people to help obtain some compensation for them," he said. "I would love to keep doing this. I still find it fascinating, rewarding in doing a lot of good for people, and intellectually stimulating."
---
Request a Free Case Evaluation
Request a free case evaluation now if you or someone you love has been diagnosed with mesothelioma. The evaluation will cost you nothing. Our lawyers will travel to visit you at your convenience or conference call with you over the phone. We understand how difficult a time this is for you and will assist in any way that we can. You can also call us toll-free at 1-800-336-0086 at any time.