---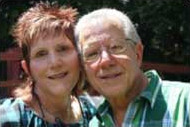 Camille Geraldi met Dr. Michael Geraldi, a pediatrician in Room 238 at Miami Children's Hospital, examining a terminally ill infant as Camille cradled the baby in her arms. Camille had known since her own childhood that she wanted to care for sick and unwanted children. She and Michael shared that passion. A few years later they were married and over the next forty years, the couple dedicated their lives to raising not only their two natural daughters, but more than 80 other children diagnosed with everything from Down's Syndrome to spina bifida, and a host of special needs. Many of the children were abandoned by their own natural parents, but Camille and Michael took them in, adopting or becoming legal guardians for them all.
Making Dreams Possible
In order to accomplish their mission, the Geraldis converted their home in a suburb of Miami into a residence where they could care for and nurture the children they took in. They created a nonprofit organization as well, the Possible Dream Foundation (originally called the Up With Down Syndrome Foundation), and funded the operation through Michael's pediatric practice – through which he not only cared for traditional patients, but also offered free care to many people with special needs.
The work the Geraldis did was driven by their compassion for children who needed help. In addition, it also proved to be a more effective way to treat mental and physical conditions that needed a lot of care. Many of the children that the Geraldis adopted or became legal guardians for were considered lost causes by their own biological parents and doctors. However, the Geraldis showed over and over again that extra-loving care and careful attention could overcome even the most dire predictions about whether a child would live or die.
Camille and Michael received some great recognition for the work they were doing. In the early 1990s, they were named as one of President George H. W. Bush's "Points of Light" due to their charitable work. The Possible Dream Foundation website lists a host of other awards and honors that the nonprofit organization has received over the years. The couple was also featured in newspapers and on multiple 60 Minutes specials, as well as other feature stories.
Caring Through Adversity
Of course, the successes and accolades have not come without their share of struggle. Throughout their decades together, Camille and Michael dealt not only with the daily efforts related to caring for special needs children, but they also had to cope with destruction and danger from both natural causes and people who didn't understand what they were doing.
The threat of a hurricane is always a problem for those who live in Florida, and living in Miami, the Geraldis were no exception. When Hurricane Andrew swept through the peninsular state in 1992, Michael's pediatric practice – the main source of income for the Geraldi family and their foundation – was destroyed. So were the three homes that the Geraldis were using to care for the 22 children they had at the time. Fortunately, the family was able to rebuild after that.
However, just a few short years later, the Geraldis were faced with problems from another direction: their neighbors. Sadly, many people seemed not to understand the mission that Camille and Michael had taken on, and the ignorance and misunderstanding began to manifest itself in dangerous and threatening ways. They received anonymous threats, and repeated acts of vandalism, such as acid dumped on a car owned by an employee of the Possible Dream Foundation. One news story on the problems said that the police showed up at least 13 times over the course of a few years, and that the Geraldis didn't even report every incident.
For the safety of their children and themselves, the Geraldis moved much of their family to a 25-acre farm in North Carolina near the Georgia border. However, not all of the children were able to make the move due to their needs, and so Michael stayed behind in Miami to take care of them and continue his practice, while Camille led the charge in North Carolina running the foundation.
For a number of years, the family flourished and the Foundation grew. The Geraldis traveled frequently between their two homes, and Camille traveled around the world to share her story and teach others how to care for special needs children. Camille and Michael also became dog trainers and began training service dogs to help those in need.
Then, in 2011, disaster struck again as the Geraldi home in North Carolina burned down. This time, Camille moved the family to Georgia, where they rebuilt once more. However, the struggles were not over – life still had one more curveball to throw them.
Dr. Mike, Mesothelioma, and Moving Forward
In 2015, Michael – who was known as "Dr. Mike" to his pediatric patients – was diagnosed with Stage 4 mesothelioma caused by exposure to asbestos as a child and while in college and medical college. As happens in so many cases, the diagnosis changed his life and the lives of his family.
For several months, Michael went through treatment, all the while continuing to care for his patients through his pediatric practice. In fact, he continued to care for them right up until about a month before he passed away on March 8, 2016, a day after his 73rd birthday. At the time of his death, he and Camille were also parents or guardians to 31 children, ranging in ages from 7 to 30-something.
The death left Camille, her children, and many others who knew them devastated by the news. But Camille is not giving up the fight. She continues her work through the Possible Dream Foundation, caring for her children and spreading the word about the importance of providing special care to those who need it.
---
Request a Free Case Evaluation
Request a free case evaluation now if you or someone you love has been diagnosed with mesothelioma. The evaluation will cost you nothing. Our lawyers will travel to visit you at your convenience or conference call with you over the phone. We understand how difficult a time this is for you and will assist in any way that we can. You can also call us toll-free at 1-800-336-0086 at any time.