---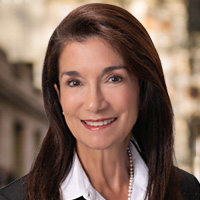 Attorney Halvorson, a native of Louisiana, graduated Magna Cum Laude from Loyola University New Orleans in 1984 and then Magna Cum Laude from Loyola University New Orleans College of Law in 1989. She received twelve American Jurisprudence Awards and two Student Bar Association Awards for excellence in fourteen diverse subjects. She also received the Honorable Robert A. Ainsworth, Jr. Award, and the Jack LaNasa Award for Excellence. Attorney Halvorson was also a Member of the Loyola Law Review and a Moot Court Semi-finalist.
Attorney Halvorson has participated in litigating over fifteen hundred individual asbestos claims against asbestos manufacturers, distributors, premise owners, and employers resulting in numerous multi-million dollar settlements. She currently represents those suffering from mesothelioma as a result of military service, occupational, household, and environmental exposure to asbestos. Not only is Attorney Halvorson a litigator against corporate wrongdoers, she is a counselor who carefully and thoughtfully guides victims and their families through what will be one of the most difficult times in their lives. Attorney Halvorson's persistence and work ethic are key to the success she has had on behalf of her clients.
Attorney Halvorson is licensed to practice law in Rhode Island and Louisiana. She is admitted to practice before all Louisiana state and federal courts and the United States Supreme Court. Attorney Halvorson joined Early, Lucarelli, Sweeney & Meisenkothen in 2006 and is a partner in the firm's Connecticut office.
A Letter from Lila Riemann
Dear Donni,
I'm sorry it took so long to get out this note. I appreciate so much that you took the time to help Dewey and me. I really believe that knowing someone cared enough to fight for him kept him focused on something besides his illness.
I think it wasn't until his pain became worse, his breathing became so labored and the knowledge that the chemo was not helping that he knew he couldn't face the struggle any longer. He hated the fact that he had to be taken care of especially since he was always the strong one.
He left this world knowing I would be taken care of and I pray that gave him peace. I appreciate all you have done to make my life more bearable.
I miss Dewey everyday but I'm also grateful for a loving family and for not having a financial burden at this time of my life.
God Bless You,
Lila Riemann
A Letter from E.J.
Dear Donni,
Joe's illness robbed him of a quiet peaceful end and robbed his family of his love. But I think it gave him peace to know that I would be taken care of. One of the things he said to me before he died was that he always thought he'd be able to take care of me – and now knew he would not.
Along with the family, I want to thank you for your efforts in taking his case and handling it so well. The funds helped us so much in paying many of the medical bills not covered by insurance – and other expenses related to his death. I was able to pay everything where otherwise I would have been struggling. Also I've been able to invest for my old age and give some monies to the children.
So please accept my thanks to you and your firm,
E.J.
---
Meet Our Team
---
Request a Free Case Evaluation
Request a free case evaluation now if you or someone you love has been diagnosed with mesothelioma. The evaluation will cost you nothing. Our lawyers will travel to visit you at your convenience or conference call with you over the phone. We understand how difficult a time this is for you and will assist in any way that we can. You can also call us toll-free at 1-800-336-0086 at any time.