---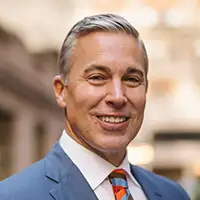 Brian Early graduated cum laude from Harvard University in 1996 with an A.B. in economics. At Harvard, Brian was awarded the Harvard College scholarship for academic achievement and was on the Dean's List all semesters. He then attended Georgetown University Law Center where he served as an editor on The Georgetown Law Journal and graduated magna cum laude in 2000. After law school, Brian worked at Willkie Farr & Gallagher before joining the Early Law Firm in 2001.
Brian is the managing attorney of the firm's New York City office where he concentrates his practice on representing mesothelioma victims and their families. He serves as a Liaison Counsel to the court in the New York City Asbestos Litigation. Brian has been an invited speaker at conferences on asbestos litigation. He is a member of the bar of the states of New York, California, and Connecticut and of the District of Columbia. He is admitted to practice in the United States District Courts in the Southern and Eastern Districts of New York. He is also a member of the American Bar Association and the New York State Bar Association. Outside of his law practice, Brian is involved with Riprap Friends, an organization that supports pediatric oncology patients.
A Letter from Donald Fischetto
Dear Mr. Early
I am writing this brief letter to let you know how pleased I am with the work you and your staff in New York has accomplished on my case. I initially had my doubts about filing a lawsuit. The process appears intimidating, and I constantly hear horror stories about lawyers, who are out to make a quick buck at the expense of their clients. After dealing with you and your law firm, I know that you are tremendously ethical and accomplished mesothelioma lawyers. Any phone call I made to your firm was responded to, and any question I had was immediately answered.
The results of my case speak for themselves. Dealing with my infliction has been very difficult, but you have given me a little bit of peace. I can honestly say that there is no finer law firm out there than your company. Thank you for all you have done.
Sincerely,
Donald J. Fischetto
---
Meet Our Team
---
Request a Free Case Evaluation
Request a free case evaluation now if you or someone you love has been diagnosed with mesothelioma. The evaluation will cost you nothing. Our lawyers will travel to visit you at your convenience or conference call with you over the phone. We understand how difficult a time this is for you and will assist in any way that we can. You can also call us toll-free at 1-800-336-0086 at any time.